Professional Christmas Lights For A Festive Hassle-Free Season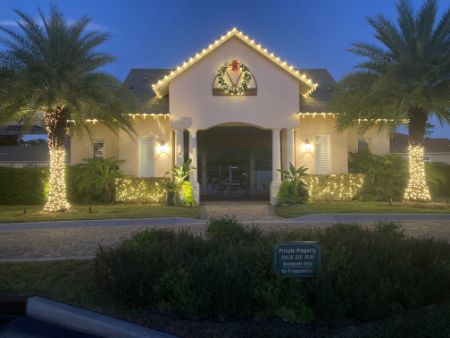 Homeowners in Fernandina Beach rejoice because it's time to think about those Christmas Lights! However, this holiday season, it's time to leave the hard work to our dedicated team at PowerWash Pro, Inc. Our technicians turn into elves this time of year, taking care of professional and precise holiday lighting installation services.
We may be known for our outstanding pressure washing, but now we'll leave your home sparkling clean and twinkling with holiday lights. We want to make your Christmas fun and festive without the stress of stringing up your outdoor lights.
It's never too early to prepare for the upcoming holiday season. Before you know it, it's right around the corner. Call now to schedule your service for Christmas Lights and create an unforgettable exterior holiday display this year without lifting a finger.
Holiday Lighting Installation
Christmas Lights are the key to making it feel like the holiday season is here. Living in a warmer climate, it's important to take extra steps to make it really feel like Christmastime.
Why not let the same team you trust for your house washing take care of your holiday light installation? It's always in our best interest to make your home's exterior look its very best.
You'll appreciate our full-service treatment:
Design - Plan out the perfect lighting based on your unique home and landscaping
Installation - Expertly hang each light according to your wishes and our plans
Maintenance - If any bulb burns out or a string of lights gets knocked loose by the wind, just give us a call
Dismantling - We'll do the backbreaking task of taking down the lights at the end of the season
Storage - Keep your precious storage space because we'll house those lights for you until next year
These services can be scheduled for you annually or as needed. While we do recommend each as once a year, whatever suits your home or business best is also considered.
Make Your Christmas Merry & Bright
You could have the best seasonal lighting display ever, and you'll never have to lift a finger. Our team does the tedious and strenuous work that makes the average homeowner want to forget about Christmas.
Call PowerWash Pro, Inc. right now to secure your spot for professional Christmas Lights for your Fernandina Beach home this season. We look forward to providing you with the quality treatment anyone on Santa's "nice list" deserves.